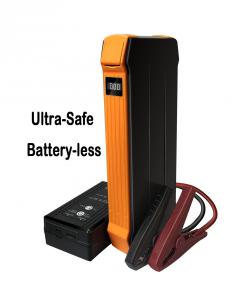 AUTOWIT Batteryless Supercapacitor Car Jump Starter
AUTOWIT Batteryless Supercapacitor Car Jump Starter Functions
AUTOWIT'S Jump Starter Charges Itself with a Car's Weak Battery
SAN FRANCISCO, CA, US, April 30, 2018 /EINPresswire.com/ — GENHIGH, a global leader in quality, innovative auto products, is pleased to announce the debut of the AUTOWIT Batteryless Supercapacitor Car Jump Starter. The company will showcase its latest product at PEPCOM's Digital Experience on May 10, 2018 at the Metreon City View (135 4th Street) in the SoMa district of San Francisco.
Unlike traditional jump starters that require to be pre-charged before use, AUTOWIT Jump Starter uses a car's weak battery power, or any other external power resource, to charge itself first before jumpstarting a car instantly. Its supercapacitor technology activates power physically to keep users from risk of sparks or explosion. Therefore, pre-charging at home is not required, although the function is available to instantly charge within a few minutes from any power outlet.
AUTOWIT Batteryless Supercapacitor Car Jump Starter is compatible with most car types (Up to 5.0L Gas/4.0L Diesel Engine), offering 700A Peak/600A Instant Jump power. It can also work in -40℃/-104℉ temperature conditions during snowstorms or blizzards and resist high temperature (70℃/158℉), e.g. desert dry-heat environment. It's ideal for road warriors who seek adventure in extreme weather conditions or every day drivers who don't want to wait for roadside assistance.
Generally, a lithium-ion battery jump starter has a lifespan of 2 to 4 years. However, AUTOWIT Batteryless Supercapacitor Car Jump Starter has a longer lifespan up to 20 years. Thanks to its built-in supercapacitor, the starter can withstand more than 100,000 times frequently repeated use in its lifetime.
To learn more about AUTOWIT Batteryless Supercapacitor Car Jump Starter please visit GENHIGH at PEPCOM's Digital Experience Metreon City View, 135 4th Street SF,CA, or at https://genhigh.com/collections/car-gadgets/products/coming-soon-autowit-12v-battery-less-portable-car-jump-starter. For an intimate demo session with GENHIGH please schedule an appointment with Minming Gu at Minming@genhigh.com or Gina Hughes at gina@charmed.media.
About GenHigh
GenHigh's a global personal electronics brand providing consumers worldwide high-quality, elegantly-designed smart devices engineered with the latest innovations in technology matched with precision craftsmanship. GenHigh's commitment to research and development is reflected in every facet of our lifestyle products to bring consumers highly affordable quality devices. Headquartered in China, GenHigh was founded in 2017 with operations in San Francisco and Texas. For more information, please visit: http://www.genhigh.com.
Gina Hughes
GenHigh Tech Co., Ltd
5126657172
email us here

Source: EIN Presswire